The Active Campaigns table lists all the campaigns with the following statuses: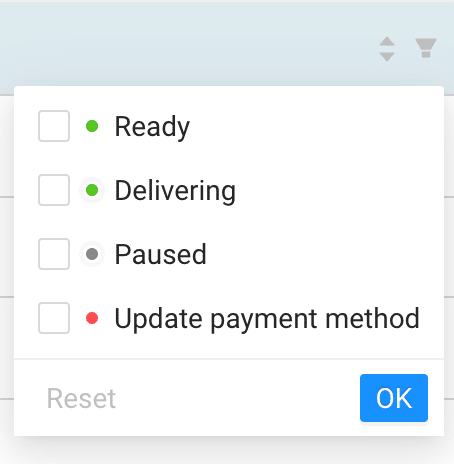 Ready: This status informs you that the campaign is ready for delivery, and it will start on the date you submitted. Also, you can delete this campaign before the start date should you have changed your strategy.
Delivering: This status tells you that the campaign is running. You can edit it by adjusting the budget, end date, or you can pause it.
Paused:

When a campaign has been paused you can reactivate it by clicking on the green triangle.
Update payment method:

If there is an issue with the credit card and payment cannot be processed, the campaign is stopped. You have 23 hours to submit a new credit card by clicking on the name of the campaign, otherwise, the campaign will be deemed complete, and you will need to create a new campaign with updated financial information.
See the question: What are the rules associated with urgent mode <Review payment method>? for more details

Note that the number accompanying the title of the table corresponds to the total numbers of active campaigns.